Ankur Mohindra, DDS, Redondo Beach Dentist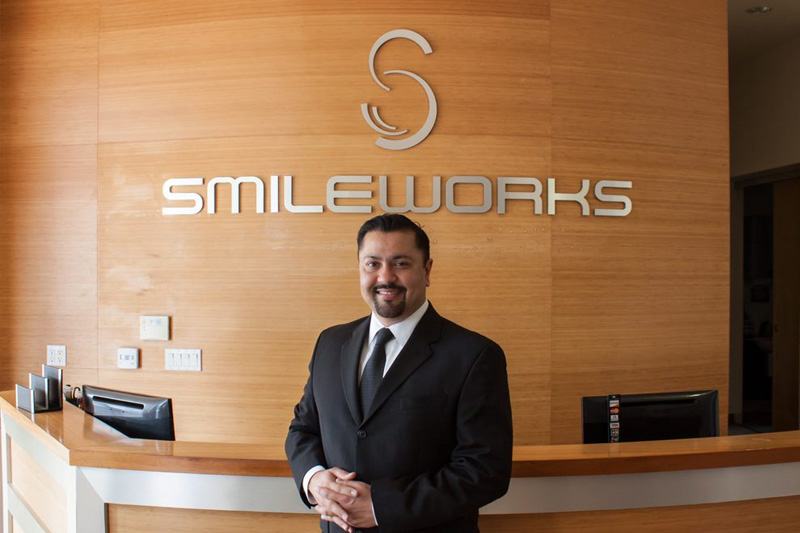 Background and Credentials
Dr. Ankur Mohindra (or Dr. Mo as everyone knows him) is a General and Cosmetic Dentist. Our patients benefit from his friendly and easy-going disposition. He is originally from Southern California, where he earned his undergraduate degree from UCLA in Psychobiology and Business Administration.
He then ventured to New York City where he graduated from esteemed the Ivy League School of Columbia University earning his Doctor of Dental Surgery degree with Honors. He then returned home Southern California to practice dentistry and earned his dental license from the Dental Board of California.
After a few years working in a group practice in Orange County, Dr. Mo found the perfect fit for his skills at Smileworks. Specializing in the art of restorative and cosmetic dentistry, Dr. Mo builds a comprehensive plan for each of his patients in order to get their oral health to where it should be to balance function and aesthetics.
Dr. Mo performs General and Cosmetic Dentistry, including composite fillings, porcelain veneers, crowns, bridges, root canals and orthodontics like Invisalign. Furthermore, he has gone through extensive training in CEREC Cad-Cam Dentistry, Sleep Apnea & Snoring treatment, and oral conscious sedation to comfort the dental phobic individuals.
Dr. Mo is a Platinum Circle Dentist and a member of American Academy of Cosmetic Dentistry (AACD), Academy of General Dentistry (AGD), American Dental Association (ADA), California Dental Association (CDA), West Los Angeles Dental Society. He has completed over 1000 hours of Continuing Education.
Dr. Mo 's personal philosophy as a dentist matches Smileworks: "To perform minimally invasive dentistry - that means we want to do as much as possible to preserve your natural teeth and give you the most comfortable experience possible in the dental chair."